Are customers from your area essential for a good conversion rate? Then it is crucial that your website is also found with the local searches in Google. Local SEO provides you with a better position in the local search results. In this article, I will explain, how local SEO works and how you should update your Google business page today!
What is local SEO?
Local SEO (Search Engine Optimization) is part of the general search engine optimization and focuses on searches carried out in a particular region.
A local SEO strategy consists of various parts.
A well-optimized Google business page with relevant information and reviews by your customers
Several optimizations on your own website
Local information on your site that helps Google rate your website as "relevant" in the area.
With these steps, it is possible to create the basis for a better local search result in Google. Besides, local SEO is not only about finding within the Google search engine, but also how visible your company is in Google Maps.
Why is local SEO so important?
Many types of businesses are mostly dependent on local customers. Think for example of the hairdresser, dentist, restaurants, schools and pet shops. But also people who are looking for an internet agency, coach or hosting company, are oftentimes inclined to choose a local company over a distant one. Local SEO is vital for the following reasons:
High competition in Google
When your website deals with a specific topic, it must compete with all the other websites that were created around the same subject. Take, for example, a restaurant website. Through the keyword "restaurant" your website is not easy to find. More than 2 billion results are trying to rank for this keyword. If you use a local search, for example, "restaurant in Prague", then far fewer results appear. The possibility to score high for this local search is, therefore, much easier than for a general search.
The increasing usage of mobile internet
Due to the ever-growing use of the mobile internet (smartphones), the search behavior through Google has changed considerably. For example, the search for restaurants in the neighborhood is one trend that skyrocketed in the area of mobile phones. A restaurant is frequently chosen based on the (positive) reviews on the Google company page. This is why you should understand that it is necessary for your company or website to be found at a specific location. This applies not only to restaurants but also to other local businesses that are generally chosen "on the go."
Put yourself in the shoes of the person, who searches for your business. Are you always looking for a keyword in combination with the location name? Not necessarily, but Google knows where the user is located in more than 90% of the searches. So when you search for "restaurant" through Google Search or Google Maps, you automatically see results with the nearby restaurants. Hence, Google knows how to "optimize" the search result based on your location and continuously uses this feature, even if you have the location GPS settings turned off.
Start with local SEO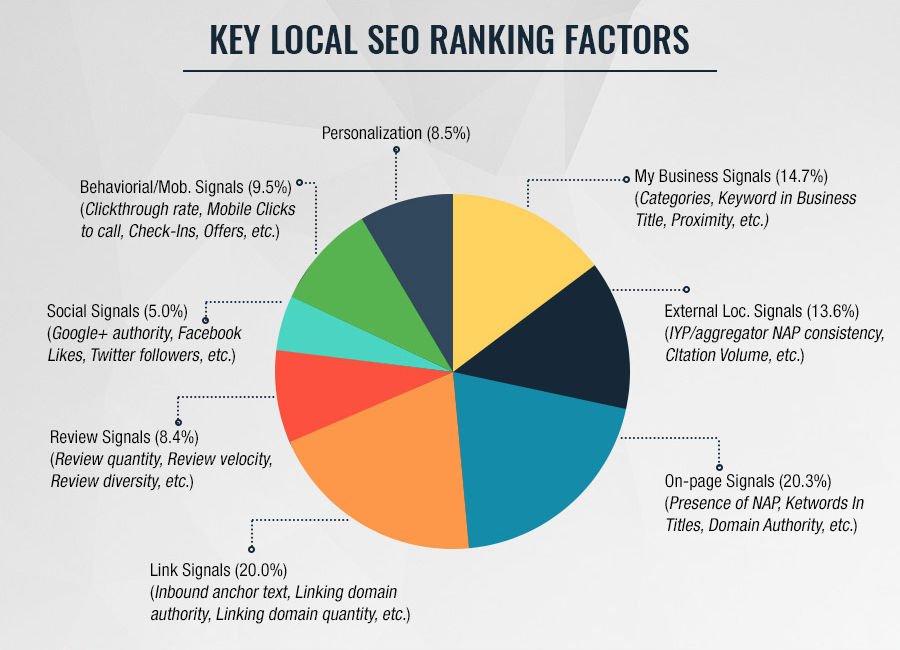 Time for action! First of all, it is important to cement your business name in Google. Below I explain how you can do this the easiest way; then I give you some tips on how you can optimize your own website for local searches.
Register your company with Google My Business
It is likely that your company already exists at Google (Maps). It is likely that you first have to "claim" your own company on Google to make adjustments. To register your company, you need a Google account, which most likely you have already. Start typing your business name on the Google My Business login page and see if your company does not appear here, for if it doesn't – you'll need to add it there. Enter all the data for the Google company page and then choose the verification, which helps Google determine that you are the owner of the company and reside on that physical address. It will take a few days for you to receive a postcard from Google with a code that you can then enter through the Google My Business site to verify your business.
Update and complete your Google business page
You can wait until you receive the postcard from Google or change your company profile in the meantime. Until you verify your business, you won't have the access to modify all the details about your business, but you can do certain changes. Do not miss the following items:
Additional categories – You have already added a category during your registration. Check if more categories match your business activity and also define the primary category. Appearing in more than one category can help your business cover a broader range of search queries.
Company description – There is room for 750 characters, so use it as effectively as possible. Even if the text didn't go public yet, it's certainly a good idea to write it already, so you will pop up with a full description as soon as your business is verified. Use the most important keywords in your text, but keep the information authentic and readable.
Add photos – Upload some photos, these can be from your office, the vehicles or projects. Choose the most attractive images possible, because that is your business card on the web.
You can also add opening hours, a URL for making appointments and other information. If possible, fill in everything. The more complete your Google business page is, the more physical space your business listing takes up in addition to the Google results.
Collecting reviews for your business page
The moment your Google business page is verified, it may take a while until your business listing appears on Google Maps and the Google search results. In the meantime, you can improve the page by asking your customers and business relations to post a review of your company. Unfortunately, the reviewer also needs a Google account. We suggest you start with the customers who you know that already have a Google account (that should be almost everyone). To simplify the process, it is a good idea to send a "direct" link to the reviews section, to make sure the customer doesn't get confused and won't give up on the process altogether. Below are some extra tips for getting your first reviews.
Begin by asking your best customers first who you know for sure that they are happy with your services.
Have you just happened to help a customer out of an emergency? Then respond immediately with the request for a review.
Always use a personal email message when you request a review; otherwise, your email can simply be ignored.
What other opportunities are available for local SEO?
Now that your Google business page has been created, there is time for other adjustments and actions.
Structured data or Schema markup
Structured what? Structured data is data that is placed in a particular format in the source code of your website. This data can be read and reviewed by the Google bots. Follow these steps:
Click here for the Schema Generator website of Joe Hall.
In case of type markup, choose the option "Local Business" and complete the form as thoroughly as possible. If your company provides services and your particular service isn't on the list, then choose "Professional services."
Copy and paste the code into the HEAD section of your website. You can do this for the entire site or just the homepage.
Create content so that your business is better found in your region
Content creation is always the best method for better findability. Optimize your (new) texts for your location. That does not mean that you have to start adding the place name everywhere throughout your pages. Your information still has to look "natural". The following types of content are ideal for "processing" the place name:
Case studies and product reviews
The about us and contact page
Blog posts about local events or actions
Information about the delivery and/or a local (installation) service
Testimonials from local customers
Register your company with other websites
You have undoubtedly heard this tip before, but I do not mean adding your company's profile to all the millions of pages where you can register your website. Consider the top 3 most influential local directories.
What about social media profiles?
The location can also be entered for each social media profile such as Facebook, LinkedIn, and Twitter. This information is a positive contribution to the location of your business in Google.
Twitter
A Twitter profile will only help you promote your business locally; if it is an active account, otherwise Google will not notice it. Use your company's name as the Twitter username in your profile.
LinkedIn
At LinkedIn, you can create an entire page for your company. Log in with your LinkedIn account and start working on your page, if you haven't already. Enter sufficient information and, if necessary, post a message at least once a month to "revive" the page. The more employees mention that they work for your business and are connected to your company's profile, the higher the chance that Google will notice the company page.
Create a Facebook company page
Using Facebook, you can create a page for your "local" company as well. This local Facebook company page will be directly connected to your location, allowing Facebook (and Google) to recognize that you are a local business immediately. This can significantly improve your local SEO optimization. Just like Google, Facebook is also a network where hundreds of thousands of searches are carried out every day. Are your customers using Facebook? Then the well optimized, freshly updated Facebook company page is certainly necessary.
If you previously created a Facebook page and didn't select all the local settings, then weigh whether it will pay out to create a brand new Facebook company page or to keep the old one. The number of (active) followers plays a major role in this decision and whether you have spent a lot of time or money on your Facebook's page promotion.
Finally, to summarize this post here is your local SEO checklist:
Optimize your Google business page
Always use a telephone number with local area code on your website
Place your address details on every page of your site (footer)
Ask your customers to post a review on your Google business page
Check with Google whether the correct company data is used everywhere
Use the locality name in the page title of your website
Use structured data snippets for your address and company information
Use a local domain extension or your website!
Good luck!